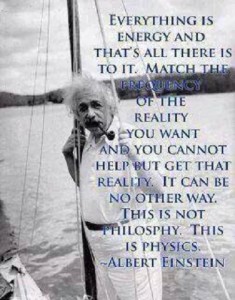 Who says science & religion don't mix?
Spirit = Self-Aware/Conscious Energy.
So saying we are Soul (spiritual) Beings is no different than saying we are beings of Energy (different words for the same thing.)
Our ancient ancestors didn't have the terminology we use today; but they were aware of the Energy which was within us & the entire universe – they just happened to call that Energy = SPIRIT.
Now there are many different levels (frequencies) of energy; just as there are many levels of temperature. And so to live  a more spiritual life means we are consciously trying to raise our energetic vibration to a higher level. if we want to connect more fully with God/Source then we must purify & raise our energy to the highest level possible. By "tuning" ourselves into His higher frequency (which can be done through Meditation, Prayer, Love, Compassion & Other practices) then we can have a direct experience of "God"; just as all the Mystical Traditions teach us.
This truth is backed up by Einstein who in the above quote says "Match the frequency to the frequency you want and that becomes your reality."
In fact, Einstein went on to say that "Science without religion is lame, and Religion without science is blind." Science & religion can & would make even greater progress if the two would try to come together and understand each other.
God bless you all! May your days be filled with Light, Love, & Peace.
And remember to always — Heed the Spirit,
Anthony