Every year it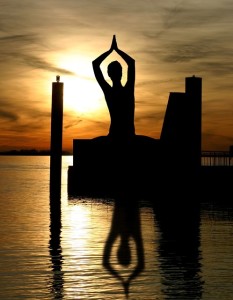 seems more scientific studies are coming out which prove meditation's health benefits; therefore, many people are now aware of its usefulness. But, meditation is nothing new. In fact, it has been practiced for thousands of years; and according to an article on Deepak Chopra's blog, Chopra Centered Lifestyle, titled The History of Meditation, its origins date back about 5,000 yrs.
But, when meditation was first invented it wasn't practiced for the physical benefits of lowered blood pressure, reduced stress/anxiety, etc… Meditation was created as a way for the practitioner to become united again with God, or to come to know their True Self. Any health benefits were just an added bonus.
Now the truth is that meditation doesn't just benefit our body & spirit. Meditation effects every part of our being — physical, mental, emotional & spiritual.
PHYSICAL – meditation brings the body to a state of relaxation. It releases stress, reduces anxiety, promotes healing, lowers blood pressure, decreases heart & respiratory rates, improves overall health.
MENTAL – By observing our thoughts we become more aware of the present moment. This helps promote greater body awareness, and gives us access to higher levels of consciousness. It increases our creativity. And helps us to perform daily tasks more efficiently.
EMOTIONAL – As we observe how we are reacting to thoughts & notice any feelings that arise we begin to calm our minds & learn how to react appropriately.
SPIRITUAL – Meditation helps us to better understand who & what we truly are. We connect with our true essence and realize that we are connected to a part of something much greater than our self. It opens us up to the reality that we are more than just a physical being.
Therefore, meditation is a technique which should be utilized by everyone. It will help those who are ill, it will help those who are working on creative projects, it will help us deal with our emotions, & it will help those of us who want to connect with God or come to discover our true self. So, why not give it a try. You may find it hard in the beginning but with time, the practice will change your life & your view of the world.
God bless you on your journey & remember to always — Heed the Spirit,
Anthony
Save